Investing Bootcamp
Investing Bootcamp is for you if you are looking to get your money working for you, investing for a secure financial future.
If you have ever wondered how to get started, or been overwhelmed by all the financial jargon, products and so-called experts, this program is for you.
You will learn the proven strategies, selection criteria and processes of the wealthy, and be able to implement them into your scenario straight away.
Investing Bootcamp consists of 6 modules, each with multiple lessons, designed to be consumed at your pace. The modules include:
How to Start with the End in Mind
The 7 Stock Selection Criteria
The 4 Property Selection Criteria
Cash Based Investing
Risk and Debt
The Strategy – Bringing it all together
The program also includes 3 Group coaching calls, a buyer only Facebook group and access to our customer support team whenever you need them.
There are some great bonus programs that come with your course that will save you the cost of the program with less than a few hours work.
To watch the 7 Steps to Invest Like the Wealthy Masterclass and learn all about Investing Bootcamp, click here
5 Steps to Financial Freedom
The 5 Steps to Financial Freedom course isn't like other money courses with loads of modules: It's a short, easy to follow solution, with supporting worksheets and materials that you can complete in a few hours.
You are going to get access to my online teaching portal with 5 short video modules and supporting templates that are instantly downloadable, including my Money Planner, Bank Account structure diagram and Debt Elimination worksheet.
There's no fluff or filler, it's the ONE process that I've used to dramatically grow my wealth and completely eliminate money stress, and you can too. Simply apply the lessons to take control of your money and eliminate money stress.
The 5 Steps to Financial Freedom will help guide you through the steps that more than just sets you up for financial freedom: It impacts your confidence, eliminates stress, gives you more clarity and even provides you with more choices in life.
Click Here to Access the Course
The Debt Detox Program
Are you struggling with money because of too much debt?
Is the juggle of credit cards, store cards, car loans and every other type of loan causing you money stress?
I get it, I understand, I've been there. The number one reason I hear from people why they haven't started planning or investing for their financial future, is too much debt.
The Debt Detox program is perfect if you want to know how to effectively and efficiently eliminate your debt, so you can have more money for you and your financial future.
Click Here to Access the Program
21 Days to Money Mastery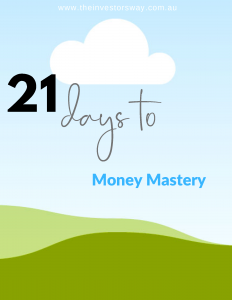 Want to know how money works without needing a financial degree?
Want simple explanations of the key fundamentals of money?
Do you want easy to understand and complete actions to grow your money?
If you have always wanted to have more money and not known where to start or how to understand all the money jargon, then this eBook is for you.
21 Days to Money Mastery is perfect if you want to know more about how money works, how to have more of it and how to take control of your financial future.